James Middleton 5-Day Plein Air Painting Workshop in Nova Scotia
September 10, 2018

-

September 14, 2018

$675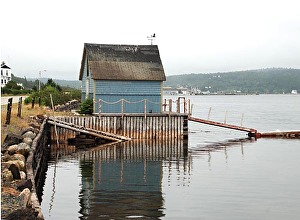 Join James Middleton for a

5-day

outdoor painting workshop vacation on the beautiful South Shore of Nova Scotia.
Workshops offer a good balance between friendly interchange and education. They will be a relaxed, yet informative experience for all participants. You will learn how to see like an artist, what to look for and how to understand what you see – drawing as it applies to painting, the importance of values (more important than colour), edges, colour temperatures and more. I have developed a few exercises that will help you better understand the different aspects, by isolating them.
Days will include demonstrations, personal instruction, exercises, encouragement and positive critiques for personal growth.
Subjects covered:
Various ways to start a painting.
Making quick field sketches to determine compositions.
Making preliminary value sketches to capture a strong design.
Sharpening your powers of observation.
Types of light and value planes.
Understanding cool and warm colours.
Simplifying detail for a more powerful statement.
Understanding edges (soft, hard and lost).
Creating atmospheric perspective and the illusion of distance.
You may choose to work in Oil or Acrylic.
 If you are a beginning painter or a studio painter, you are in for a great experience!
Last year we had a lot of fun (and some work) and made new friends. I am very happy with the diverse mix of like-minded artists each year – beginners to experienced. Some were local artists, some from other Canadian provinces, the U.S. and other countries.
We painted in the colourful Town of Lunenburg, the Petite Riviere Vineyards, the LaHave Yacht Club (quaint), Blue Rocks fishing village, Green Bay, West Dublin Wharf, LaHave Island Wharf and from the front yard of my studio, overlooking the popular LaHave Bakery and the sailboats and lobster boats passing by.